Microplastics may be tiny, but they're a huge problem.
There's so much plastic in our oceans, it's often called 'plastic soup'.
Dr Masoumeh Zargar is an Engineering Lecturer at Edith Cowan University.
According to her, 25% of microplastics released into oceans come from wastewater effluent.
To tackle this problem, Masoumeh's team developed a new membrane filtering technique. And it could change how wastewater is treated worldwide.
POLLUTING PARTICLES
One way that plastic enters waterways is through our sewer systems.
Products like toothpaste, cosmetics and synthetic textiles shed microplastic fibres. These all end up in wastewater treatment plants.
Although they are designed to remove pollutants, many treatment plants are ill-equipped to deal with microplastics.
A MACROPROBLEM
Microplastics are an 'emerging contaminant', according to the World Health Organization (WHO). This means they have the potential to cause lethal effects on wildlife and people.
A recent WHO report suggests tap and bottled water could contain up to 10,000 particles per litre.
Microplastics also carry pollutants and bacteria.
"They accumulate pollutants in the environment by adsorbing toxic chemicals," says Masoumeh.
"Microplastics can also interfere with [wastewater] treatment processes. They can clog and damage equipment and materials."
This leads to higher maintenance costs and lower rates of pollution removal – allowing more harmful contaminants to enter our water.
FUTURISTIC FILTERS
Conventional wastewater treatment processes include physical filtration, sedimentation and biological treatments.
Unfortunately, microplastics are often too small to be removed in these ways.
"Some microplastics can bind with other organic and inorganic materials in the wastewater," says Masoumeh.
"This makes it difficult for them to be separated and removed."
"Some can damage or form cake layers – known as 'fouling' – on membranes, reducing their lifespan and efficiency."
Masoumeh's new filters use advanced material layers with altered structures. The surface properties help prevent plastic fibres from clogging.
"Our novel membranes are … highly efficient in removing microplastics," says Masoumeh.
"They also address the issue of fouling."
The engineered membranes are more effective at separating pollutants – and more ecofriendly.
"We use green synthesis approaches and materials," says Masoumeh.
"Their increased durability and efficiency results in less waste and reduced energy consumption."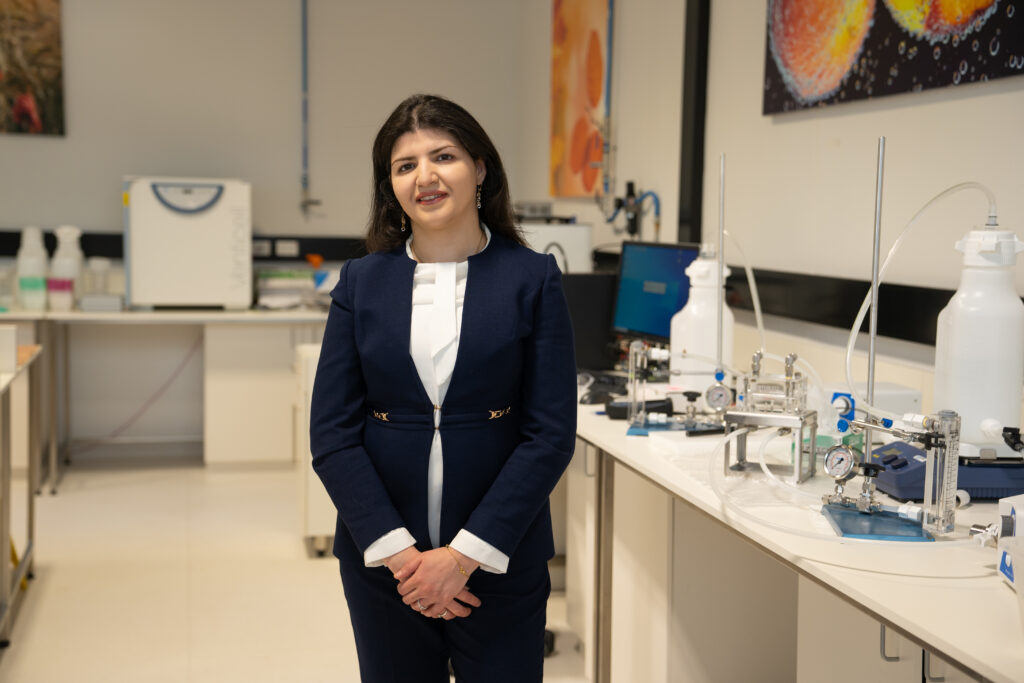 Dr Masoumeh Zargar with her prototype (right) | ECU
WE'RE ALL IN THIS TOGETHER
Developing specialised treatments to target microplastic removal from water is important. However, Masoumeh says a multifaceted approach is crucial to address the global plastic problem.
"Individuals, industries, and governments [need to] work together to reduce plastic consumption." she says.
Masoumeh and her team will continue to optimise their product so it can be used commercially. In the meantime, she advocates for everyone to play their part in reducing plastic waste.
"Choose to purchase products made from natural materials instead of synthetic ones." she says.
"Support companies that use sustainable practices. With awareness comes responsibility."