It's been a long day. You're waiting for the bus to finally take you home. You would love to lie down to rest while you wait. But the fancy new bench seats make it impossible.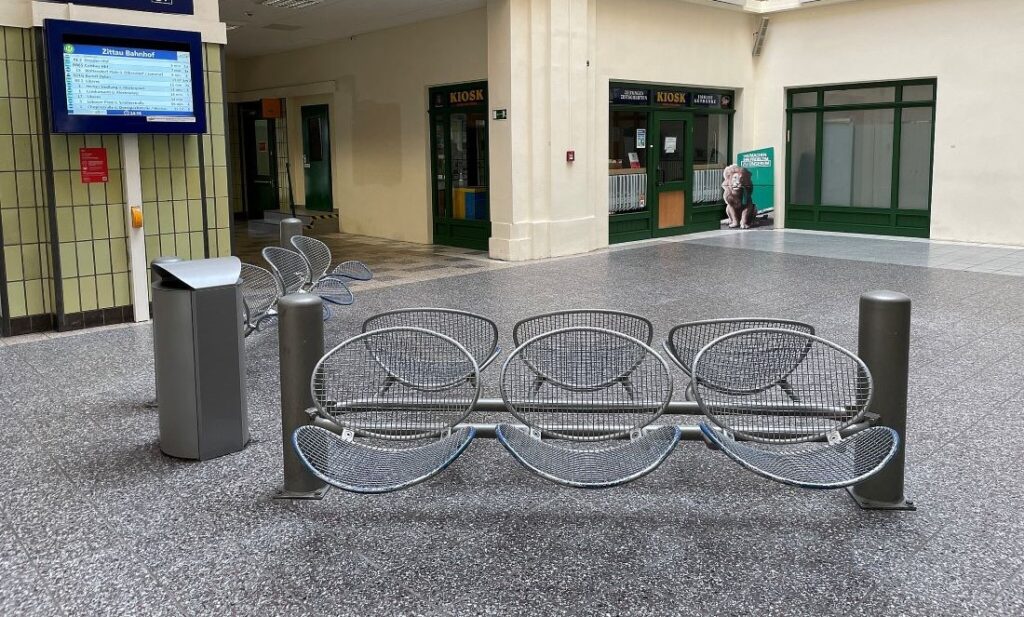 Individual curved seats instead of one long seat restrict people from lying down | Zittau Bahnhof Bänke via Wikimedia Commons
It may seem like a series of poor choices made by an artsy intern but these designs are very much intentional.
Purposefully designed by architects, this is a global phenomenon known as hostile architecture.
And it's becoming increasingly common, even right here in Perth.
A HOSTILE TAKEOVER
Hostile architecture began in reaction to anti-social behaviour in public places.
Bumps and fins placed on low walls and handrails to prevent skateboarders.
Motion-detecting spotlights to prevent public urination or other anti-social behaviours in dark corners.
However, over time, hostile architecture has become an increasingly 'normal' part of urban design that's used against people.
Some of the more aggressive methods include spikes embedded in flat surfaces to discourage homeless people from sleeping in certain areas.
While some are well hidden and designed to look like an artistic design choice, others are obvious.
DESIGNS AGAINST HUMANITY
The original intention of preventing anti-social behaviour seems reasonable enough. However, it's become a polarising topic due to its effect on the most vulnerable members of society.
Anti-homeless spikes don't just prevent people sleeping rough – they restrict people from simply resting their feet.
This can be a problem for the elderly, pregnant women, children or people with disabilities.
Hostile architecture sends a clear, albeit sometimes unintended message: you are not welcome here.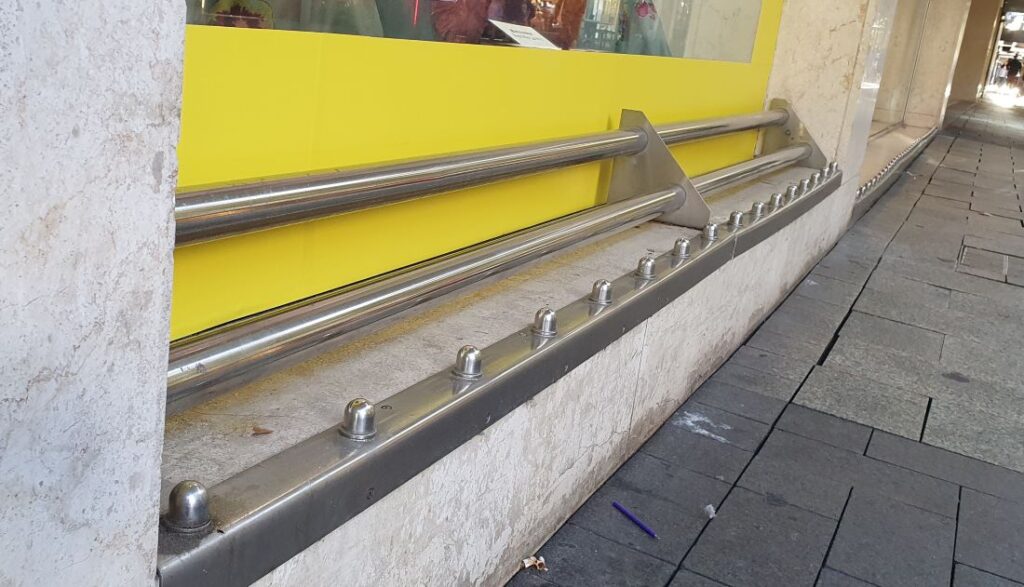 A lot of windowsills in Perth's CBD are 'protected' by spikes or hard points | Tarryn Basden
An alternative path
In the short-term, hostile architecture does the job.
It stops skateboarders from damaging public property. It prevents people from urinating or getting hot and heavy in public places.
And it restricts homeless people from bedding down in public places – a huge ethical problem in its own right.
However, in the long-term, hostile architecture fails to address the cause of all these problems.
It doesn't solve the increasing rates of homelessness or provide outlets for those engaging in anti-social behaviours. It simply moves the problem along.
Furthermore, it prevents vulnerable members of society from taking a break comfortably and safely in public places.
Surely, it's time we start seriously addressing the root problems that lead to the popularity of hostile architecture.