You're building and programming a LEGO robot that completes missions on a field. You're solving real-world problems. You're competing against others – and you're 9-16 years old.
Welcome the FIRST LEGO League WA!
FLLWA (for short) is a collaborative project led by Curtin University and supported by community hubs around Western Australia.
It ticks all the boxes for a great STEM engagement. And for Curtin Uni STEM Outreach Co-ordinator Tim Keely, it's always exciting.
"Last year, the global theme was around doing sport differently. We saw students come up with the ideas around new interactive games, diet solutions, enabling kids with disabilities access to sports; it's all very inspiring. And their presentations are always carried out very theatrically – costumes, props, sound effects. I love it."
"It can be wonderfully surprising and unexpected."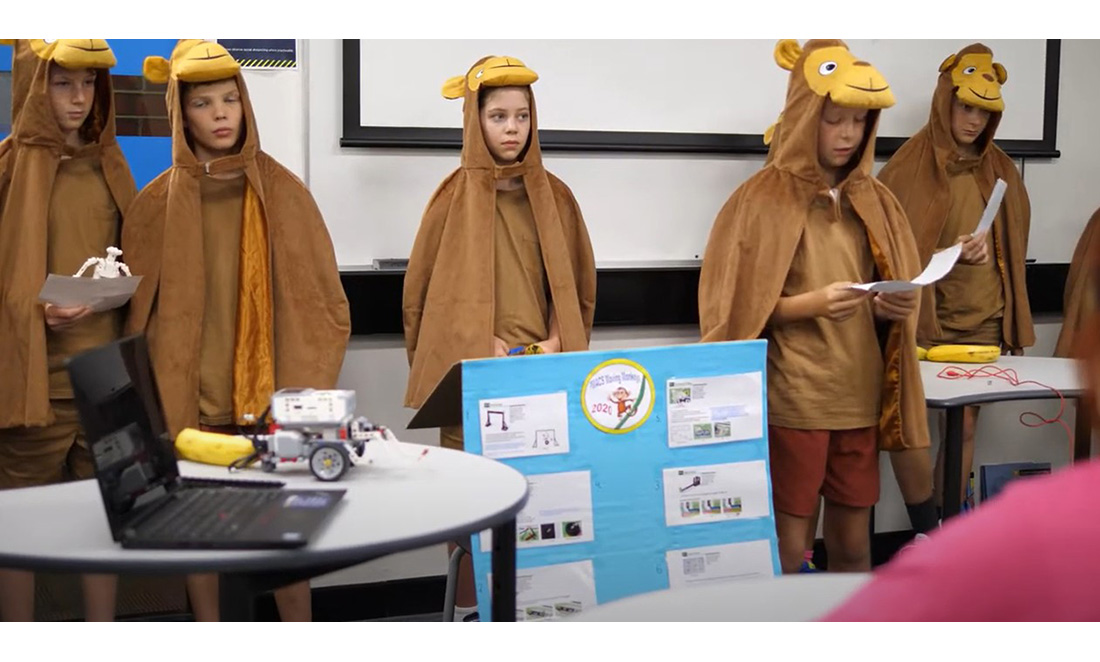 Part of Tim's role is linking students with researchers, local councils and businesses, and teachers to explore relevant local issues. Students then collaborate over 4 months to understand, design, build, test and present their solution.
The FLLWA stems from the FIRST Robotics competition (FIRST standing for For Inspiration and Recognition of Science and Technology) that was initially brought to Australia by Macquarie University in 2006.
Everything is cool when you're part of a team
There's 200 active FLLWA teams in WA, from Geraldton to Australind, Dowerin to Kalgoorlie, metro Perth to Tjuntjuntjara lands.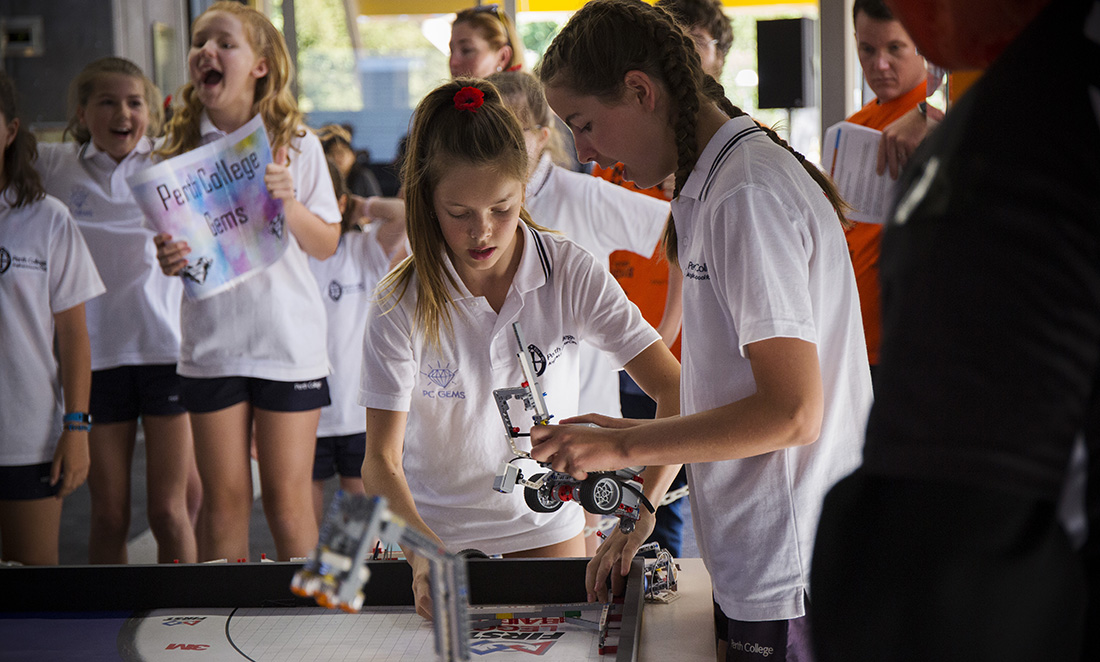 Tim says it's awesome to be part of a community – alongside volunteers, coaches, teachers, parents and local businesses – where people are so positive about what they're doing.
In Forrestfield and High Wycombe, for example, Bendigo Bank has supported local schools to take part, acknowledging the importance of this type of rich engagement in the community.
Many local councils have also mentored teams to work on real-life problems – like in Kalamunda, where students designed a Lesmurdie stormwater drain system with clear viewing panels built in – a simple solution to a much bigger maintenance problem.
"I'm honoured to be involved," says Tim. "It's kind of like a tornado – the more people it scoops up, the more capacity and potential we have to do really good things."
Everything is awesome when we're living our dream
This week, the FIRST LEGO League of WA took home the Chevron Science Engagement Initiative of the Year, in the 2021 Premier's Science Awards.
The idea that you can have a competition that is entirely* collaborative and supportive may seem unlikely, but Tim says the vibe is extremely positive.
(*He concedes there is the occasional disagreement, usually over device chargers.)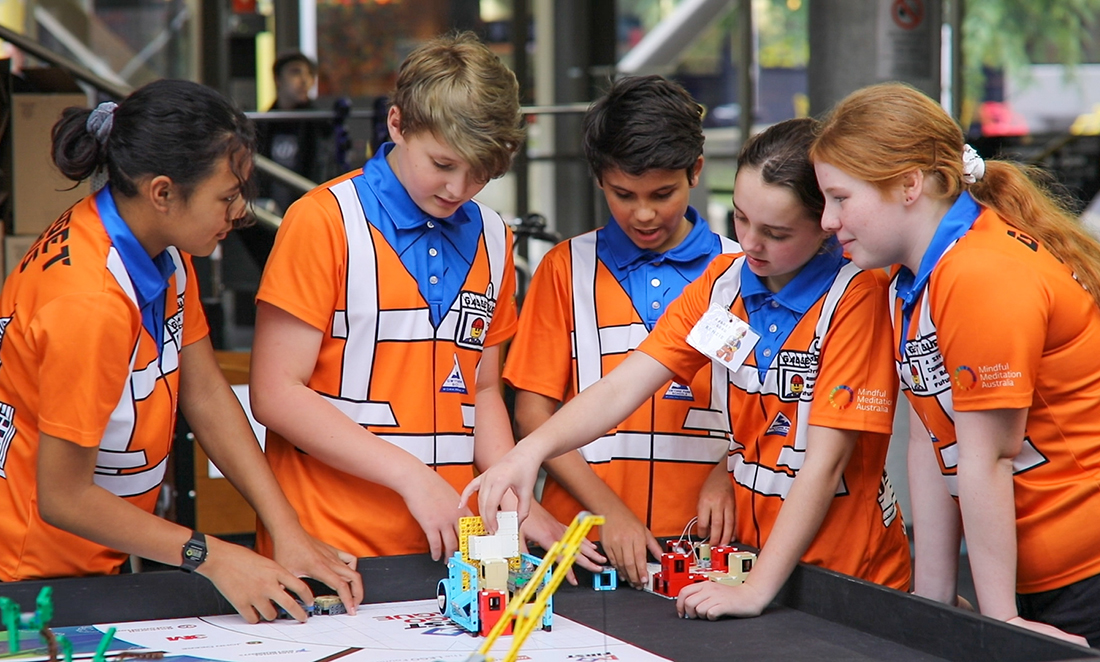 "I'm amazed by the things the students get their robots to do," he says. "The level to which kids can engage with this technology still surprises me. It's a true joy to be able to guide teams through each year."
Everything is better when we stick together
Tim believes the competition continues to grow "because we have communities who rejoice in finding great and amazing solutions through STEM".
These communities have nurtured and grown the FLLWA, which has seen about 60,000 students, teachers, family members and local community members involved since its establishment in 2013.
And tellingly, Tim sees many participants come back as volunteers, judges, referees and mentors for the younger teams. Some will even be at this weekend's Western Australian Robotics Playoffs (WARP) (think BIG robots).
"So engagement is not just limited to that little bit of FIRST LEGO League – it keeps on going up to a higher level. Now we've got people who will graduate uni, and they're engineers, and they still come back and involved," he says.
Sold? If you're keen to get involved check out the FLLWA webpage or keep your eyes peeled for a free intro day for teachers and coaches. Or you could volunteer and learn about the competition that way.