Everything doctors do in a hospital is tried and tested. Before they give you a drug or surgical procedure, someone's got to prove that it's safe – and that it works.
Associate Professor Ed Litton is one of this year's Woodside Early Career Scientists of the Year (alongside Dr Arman Siahvashi). He's a doctor in intensive care at Fiona Stanley Hospital, but also a researcher with UWA. He's doing that trying and testing.
"Over 10,000 West Australians need intensive care each year," he says. "In my clinical work, I get to care for them, but it's also nice to be doing research.
"It's my way of trying to make sure that I can treat tomorrow's patient better than I did today."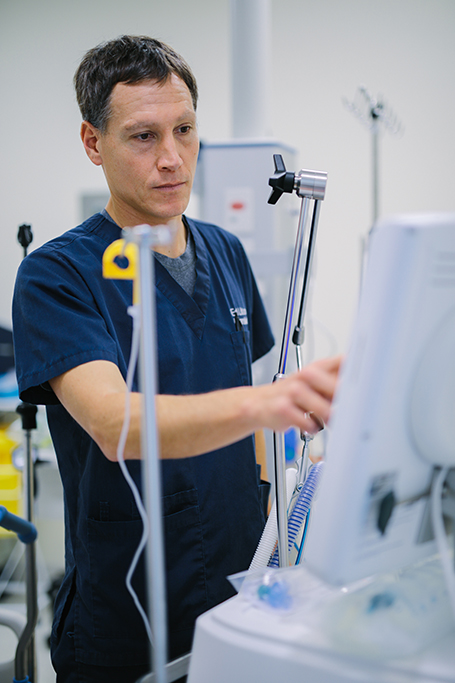 Trial by fire
"People hold doctors in incredibly high regard," Ed says. "They have an assumption that we always know what is best, that somehow we just know which treatments work."
But doctors don't have a sixth sense for good treatments. Instead, they rely on evidence, like the data Ed and his teams gather.
Ed specialises in clinical trials. They're the gruelling, rigorous tests that an experimental treatment has to pass before it becomes … just a regular treatment.
"Clinical trials really are the best and only way we have of providing certainty around whether something we're doing is truly beneficial or not," he says.
"And you also identify things that are either useless or, even worse, harmful. It means you remove those harmful treatments from clinical practice, and the ones that are identified as beneficial can be incorporated into the usual clinical care."
"The challenge is to be able to communicate and explain the role of research in answering questions where we have uncertainty."
Planning for a pandemic
For most of us, the COVID-19 pandemic was our first real chance to watch this process in action. For Ed and his teams, it kicked off a trial that took years to come together.
"It takes months and months, sometimes years, to develop a clinical trial to the point where you can begin to recruit patients," he says.
"By the time we were ready to recruit patients with swine flu, that pandemic had passed. We lost the opportunity not only to do better for our patients at that time but to learn for next time.
But they kept their plans in place, just in case.
"We didn't know that it was going to be COVID, but we knew that respiratory pandemic infections come along not infrequently. We had to have the infrastructure and knowledge base there ready to go."
Because that trial was already lined up, it started delivering results fast.
"It's had tremendous outputs in terms of pretty early on identifying that hydroxychloroquine was not beneficial despite all the hype. It identified that corticosteroids were beneficial, and it identified that interleukin-6 antagonists were beneficial," he says.
"It's satisfying to see those research outputs become usual care."
Ed says that, even though COVID-19 was a tragedy, it was also an amazing chance to see treatments go from anecdotes to evidence to implementation of that evidence.
"The things that would have been considered experimental a year ago are just standard now."
Science meets medicine
Ed says making research part of his job helps keep fuel his creative side.
"In science, you get to take your thoughts wherever they can go and challenge yourself to find creative solutions," he says.
"Maybe that's not something people think about so much with science – how creative it can be – but I find in medicine, it definitely allows that for me. You have to find creative solutions, and it's a fabulous way to feed that fire."