Spodoptera frugiperda, commonly known as the fall armyworm, is a moth species whose larvae wreak havoc on a wide range of plants, including crops.
Its common name comes from mass movements of the caterpillars during autumn. After devouring whole crop fields, the species is said to 'march' out looking for more.
Native to tropical regions of the Americas, the fall armyworm was first reported in West Africa in 2016.
Since then, it has invaded more than 70 countries, including Australia.
Australian scientists first detected the species on two Torres Strait Islands in January 2020. A few weeks later, they were found in Queensland. Around March 2020, the species was detected in the Northern Territory and Western Australia.
Dr Tek Tay is a principal research scientist at the CSIRO. He's recently co-authored three different genomic studies to better understand the fall armyworm's movements.
GLOBAL WORMING 
Findings from the latest research challenged current theories about how the fall armyworm is spreading.
"People were assuming it somehow got to West Africa and then … spread really rapidly," says Tek.
However, the data showed enough genetic differences within populations to suggest that the fall armyworms had originated from multiple places.
"[They] didn't fit the genome pattern of a single introduction into West Africa and the subsequent spread towards Asia and Oceania. Rather, the genomic signatures were better explained by multiple independent introductions," says Tek.
In other words, fall armyworms may be hitching rides on international trade routes.
How? Without rigorous plant health practices, pests can stow away in agricultural cargo on ships and planes.
This is on top of the worms' natural invasion methods, which may include aerial strikes from nearby countries.
Fall armyworms are strong flyers. Under optimal conditions, they're able to fly over 160km.
As a result, with the help of seasonal winds, the moths can readily invade new habitats.
WORM ARMY-GEDDON?
As well as damaging food crops, the fall armyworm could cause environmental damage in Australia.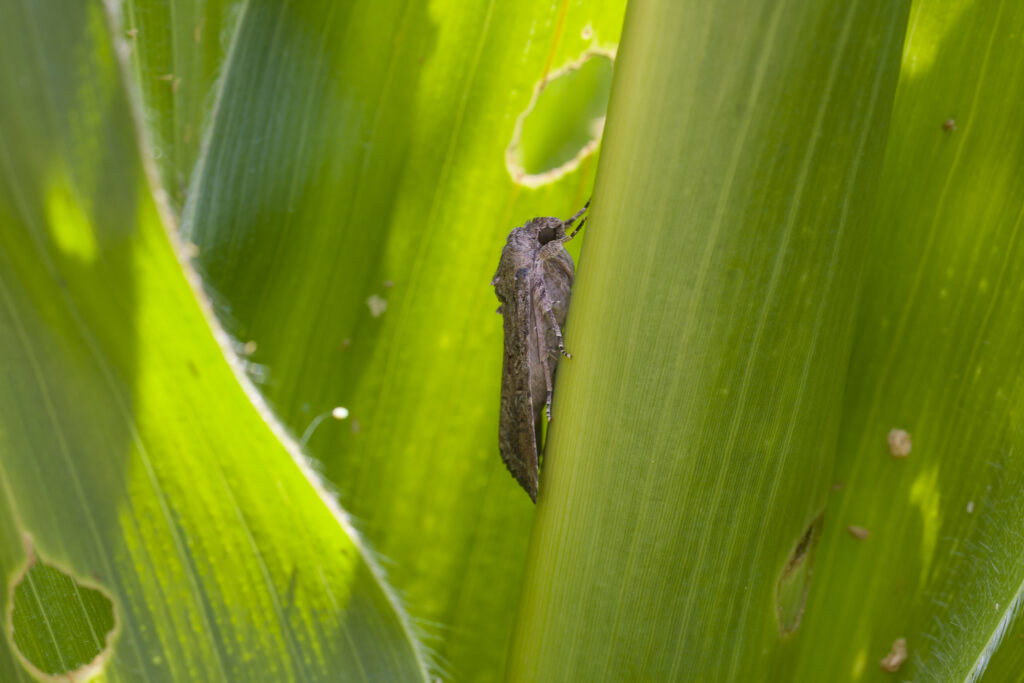 Matured fall armyworm | Getty Images
Currently, farmers rely on insecticides to manage the pest. If the fall armyworm populations grow, frequency of insecticide application will also need to grow – leading to an increase in environmental pollution and unintentional killing of beneficial insects.
For example, in Africa, they cause yield losses of around 20–50% in maize crops.
According to Tek, in their invasive ranges, fall armyworms have been known to damage crops such as maize, rice, sorghum, sugarcane, wheat, ginger, capsicum and melons.
This could have major economic impacts on growers, exporters and the communities that rely on these industries.
SOME LIKE IT HOT
The fall armyworms can thrive in a range of climates but prefer the heat.
They thrive in subtropical regions such as northern WA, the Northern Territory and Queensland.
The life cycle of fall armyworms | CABI Invasives via YouTube
A study of Mexican maize crops found armyworm larvae grew and developed faster at higher temperatures.
Tek says Australia's warming climate may encourage more armyworm outbreaks.
"Changes in climate pattern is a big problem that may affect the fall armyworms' life cycle and development," says Tek.
"This aspect remains a priority research area as it will have major implications for future generations."
BOOKWORMS TO THE RESCUE
Tek says the fall armyworm is poorly understood and further research is needed.
"Genome research is going to open up a lot of avenues," says Tek.
By monitoring pest populations at a genetic level, we can better understand what helps them thrive, which chemicals they resist and how we can manage them better.
We can improve our biosecurity measures by identifying 'weak points' in trade route inspections.
This is important for other potential pests, not just fall armyworms.
"It's unlikely that fall armyworms will be the last major damaging pest that spreads," says Tek.
"The pathways taken by the fall armyworms provide an opportunity to identify [and] future-proof against other invasive pests or minimise the risk."
Tek says that, while Australia is vulnerable to damage caused by the fall armyworm, the moth will have a greater impact in poorer countries with fewer resources.
But that's a whole other can of worms.