A super-sensitive technique for monitoring leukaemia cells won what is arguably the nation's most prestigious science prize.
The new medical invention, developed by UWA and Pathwest, is able to detect the genetic changes that cause leukaemia from a blood sample.
It can study hundreds of thousands of cells in a single test, eclipsing current detection methods, which are slow and assess only a few hundred cells at a time.
The invention is so sensitive it can detect as few as one abnormal cell in 10,000 normal cells.
CHOOSING THE RIGHT TREATMENT
Medical researcher Dr Kathy Fuller developed the test alongside PhD student Henry Hui and Professor Wendy Erber.
She says the faster, more sensitive technique—known as Immuno-flowFISH—can help determine a patient's treatment.
"Some patients we know will only respond to certain chemotherapy drugs or immunotherapies," Kathy says.
The test results can help choose the right treatment and, hopefully, improve the patient's outcome, she says.
Researchers discover a new way to monitor leukaemia
Kathy says that, because the technique is so sensitive, it can also be used during treatment and in the post-treatment monitoring phase.
"That minimal residual disease detection—our test is absolutely perfect for that," she says.
A EUREKA MOMENT
Kathy says it is an amazing feeling to be recognised in the Australian Museum Eureka Prizes.
The team's invention won the ANSTO Eureka Prize for Innovative Use of Technology, and the trio haven't been able to keep the smiles off their faces.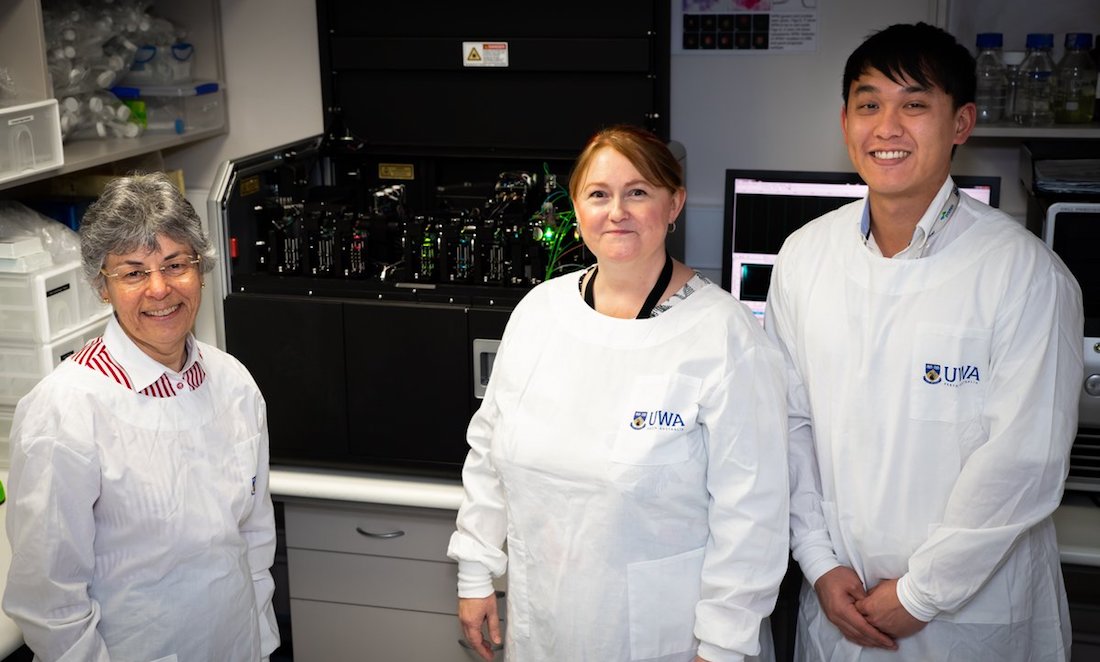 "We were so excited," Kathy says.
"The very first thing was pure shock—and then we were just overjoyed."
Kathy says she is particularly excited for Henry, who has been in the lab 7 days a week perfecting the test and is about to submit his PhD thesis.
"To have other scientists look in and say this is great, it's just so exciting for us," she says.
"We live and breathe it, so we think it's awesome.
"But when somebody else turns around and says actually we think that this is one of the top research projects and you're really worthy of this kind of award, that's just an amazing feeling for us."
THE ROAD AHEAD
So far, the research has focused on chronic lymphocytic leukaemia—a type of blood cancer that usually affects older adults.
But the team is looking to expand to other types of leukaemia, including those that affect children.
Kathy says they've been working with haematologists and clinical oncologists all over Perth, including at Perth Children's Hospital.
The test is also being evaluated interstate and overseas, and Kathy hopes it will be widely available to patients in a few years.
"At the moment, it's looking extremely exciting," she says.
Volunteers interested in taking part in the research should speak to their haematologist about joining the study.