The Foundation for Young Australians (FYA) recently analysed 2.7 million job advertisements, using big data analysis to make predictions about the future of work.
When a million jobs have disappeared in the last 25 years (in manufacturing, administration and labouring), and a million more have been created (in the knowledge and service industries), this means you can at least be clever about where you decide to look for a career.
MEET THE JOB CLUSTERS
The FYA report, called The New Work Mindset, used clustering algorithms to categorise all jobs into seven clusters. Clustered jobs are closely related, and require skills that are highly interchangeable with other jobs in the cluster.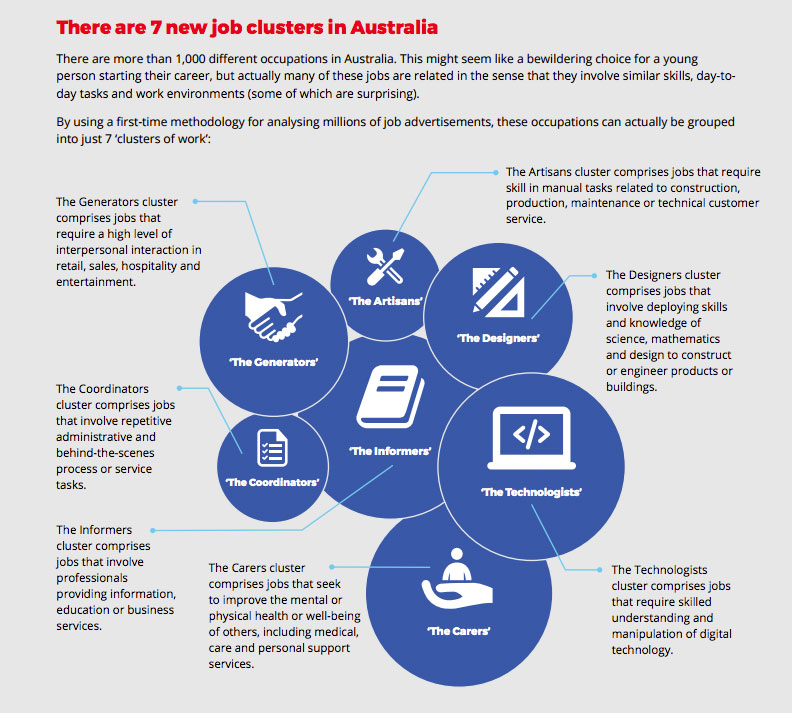 Of the seven clusters, three are predicted to be home to most jobs of the future:
The Technologists use their skills in digital technology.
The Carers work to benefit others' mental and physical health.
The Informers focus on information, education and business services.
Two clusters are predicted to have moderate growth:
The Generators have high-level interpersonal skills: think retail, sales, hospitality and entertainment.
The Designers use science, maths and engineering to design, construct and problem-solve.
Two clusters are predicted to be low-growth, and vulnerable to automation:
The Artisans use dexterity and manual skills in construction, production, maintenance or technical customer service.
The Coordinators excel at keeping the rest of us organised: we're talking jobs in admin and behind-the-scenes service.
WHAT DO YOU WANT TO BE?
Rather than skilling up for a specific job—which may or may not yet exist—the report suggests young Australians should gather a portfolio of skills and experience in a particular job cluster.
Choose a cluster based on your passions and strengths, then gain experience in that cluster by carefully choosing your casual and part-time early career jobs.
That way, you'll be better prepared to job switch and leap frog into your dream job when it arrives.
Already trained for a job? You have skills transferable to 13 other jobs, and could do 44 other jobs by learning just one extra skill, the report suggests.
GET DIGITAL
From 2012–2015, the nature of job advertisements changed.
Demand for digital skills increased by 212%.
Demand for critical thinking skills increased by 158%.
Demand for creativity and presentation skills increased by 65% and 25% respectively.
Other skills in high demand include communication skills, team work and project management.