In March 2022, a floating ice shelf in East Antarctica the size of Rome totally disintegrated in 2 weeks.
Events like this contribute to rising sea levels.
Between 1979 and 2017, the Antarctic Ice Sheet lost an average of 31 gigatonnes of ice per year. Main culprit? Warmer, deep salty water eroding its glaciers.
For scale, 1 gigatonne of water would fill about 400,000 Olympic-sized swimming pools.
THE OCTOPUS GENES HAVE IT
The West Antarctic Ice Sheet (WAIS) contains more than 3.2 million cubic kilometres of ice.
Its complete collapse would raise sea levels by at least 3.2 metres. This would devastate low-lying islands and coastal areas.
The Intergovernmental Panel on Climate Change expects a global sea-level rise of 0.6 metres by 2100 – under a medium emissions scenario.
Coastal Risk Australia predicts flooding along the Swan River if that happens.
So where do octopuses come in? By analysing octopus genetics, researchers have uncovered new evidence that suggests the WAIS collapsed 1.8 million years ago.
DON'T LOSE YOUR TENTA-COOL
Turquet's octopuses are native to the waters around Antarctica.
They're about 18cm long and can't swim. They live on the ocean floor.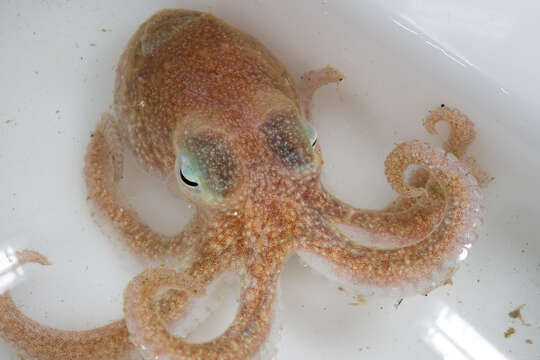 Turquet's octopus | Jennifer W. Trimble, Museum of Comparative Zoology, Harvard University
Because they're so small and spend their time crawling through sand, they don't travel far.
But two batches of Turquet octopuses on opposite ends of Antarctica are more closely related than they should be.
Turquet octopuses in the South Weddell Sea and the Ross Sea had more genes in common than they did with their immediate neighbours. This is despite them being on two sides of an uncrossable ice mass.
How the heck did this happen?
LIFE AT ROCK BOTTOM
Dr Sally Lau is an Evolutionary Geneticist at James Cook University who led the research.
Sally sampled the DNA of 96 Turquet's octopuses around Antarctica.
Each octopus has about 2.7 billion pieces of DNA, and mapping it all would have been expensive and time-consuming.
So, to make life easier, Sally looked for mutation patterns in the DNA of different octopus populations.
Based on these mutations, she could tell if the octopuses were closely related or not.
To put it into human terms, we're all the same species. But your family is more closely related to you than strangers in another country. The similarity in your genes can show how far back you may be related to someone.
"We deduced that the genetic patterns connecting these two locations are very different from the general movement patterns around the Antarctic continent," says Sally.
This suggests that, at some point in the past, octopuses in the south Weddell Sea and Ross Sea were able to mate. The scientists used modelling to test this scenario and pinpoint when this occurred.
A MODEL FAMILY
The model used the sampled octopus DNA to test different movement scenarios.
It modelled the octopuses' ancestral lineage – or how they evolved over time and intermixed.
The model predicted that the WAIS collapsed during the last interglacial period – allowing the two separate octopus populations were able to interbreed about 125,000 years ago.
Sally says the international study involved scientists from different disciplines.
"We had an ice sheet modeller, a glaciologist, computer scientists, geneticists and biologists. We sat together and figured out how to use biology to answer physical science questions."
The biggest takeaway from the study was that rising temperatures were able to collapse the WAIS.
This is concerning because, if current global temperatures keep rising, the WAIS could collapse again.
"By looking at the past, we have a better understanding of what might happen in the future. We also obtain a better understanding of global sea-level rise."