Native to Japan, the carpet sea squirt (Didemnum vexillum) is found in New Zealand, North America and Europe.
The 'carpet' part of its name refers to how it spreads – by forming an encrusting layer on things. It grows on manmade infrastructure like marinas and moorings. It also overgrows and smothers shellfish, sponges and other native marine species.
Also known as 'sea vomit', carpet sea squirts are a type of colonial tunicate made up of thousands (or millions) of microscopic animals called zooids.
Zooids survive by sucking nutrients out of the water. Eventually, they form a colony that crowds out other marine life.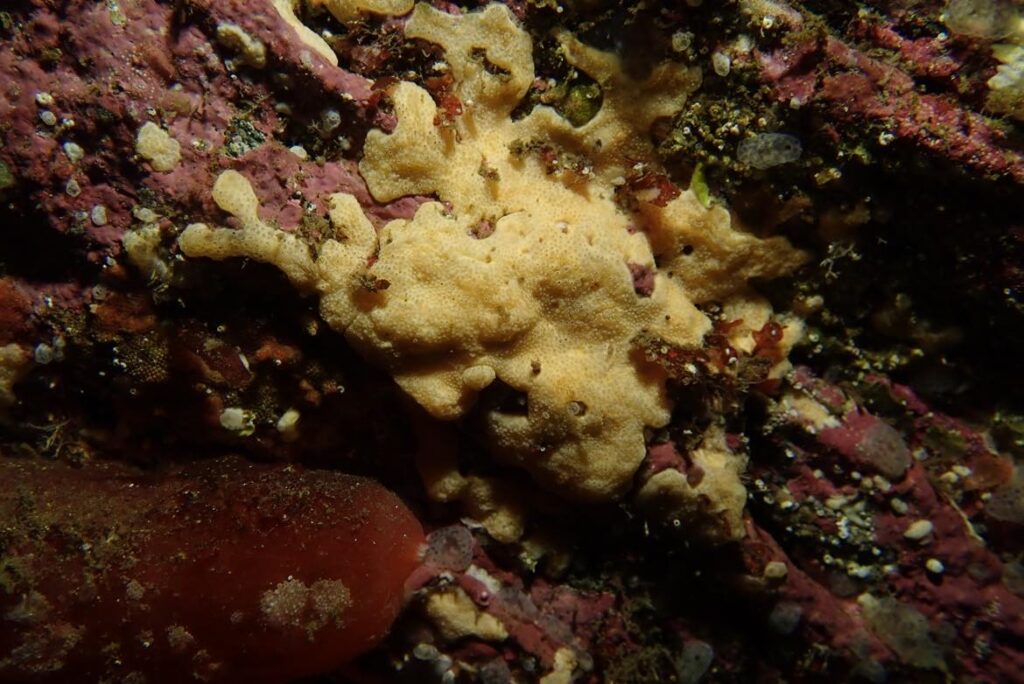 Don't mind us, just slowly taking over your home. | The Norwegian Biodiversity Information Centre
ATTACK OF THE SEA VOMIT
In March 2021, carpet sea squirt was discovered on a wharf at Garden Island. It was the first time the invasive pest had been detected in Australian waters.
Last month, it was found on wharfs at the Australian Marine Complex in Henderson.
So how did it enter Australian waters? What threat does it pose to WA?
That's where the Department of Primary Industries and Regional Development (DPIRD) comes in.
"[DPIRD] is currently undertaking delimiting surveys of the incursion site to determine if carpet sea squirt has spread," says Dr Peter Adams, a DPIRD incident manager.
"The results will inform any decision on how best to treat the incursion."
ON HIGH ALERT FOR THE SQUIRT
The spread of carpet sea squirt could be costly for both the WA economy and the environment.
Carpet sea squirt is notorious for fouling ships, docks and pontoons, racking up maintenance and repair costs. However, experts are most concerned about the risk it poses to our marine ecosystems.
As it spreads and envelopes marine life, carpet sea squirt not only smothers native species but destroys the complex web of life that relies on them.
A disturbance within the complex marine ecosystem affects all types of organisms, including fish, crustaceans and even large mammals like seals and dugongs.
So how are local authorities combating this pest?
HOW TO SQUASH A SQUIRT
"There are several techniques for treating carpet sea squirt, including wrapping of underwater infrastructure, hand cleaning using vacuum capture, removal of fouled vessels or infrastructure from the water or chemical treatment," says Peter.
"The suitability of these methods is being considered in light of the results from the delimitation survey."
So rather than a 'seek and destroy' mission, DPIRD's approach is to wait, observe and assess what can be done.
To monitor the spread of this outbreak and other potential marine pests, DPIRD has implemented the award-winning State-Wide Array Surveillance Program at 10 major ports along the WA coastline.
These include Broome, Port Headland, Dampier, Cape Lambert, Cape Preston, Geraldton, Fremantle, Garden Island, Albany and Esperance.
"Surveillance is undertaken using underwater settlement array plates on which marine growth can settle and grow," says Peter.
"The arrays are collected after 2 months in water and analysed using molecular genetic techniques."
The genetic techniques involve taking samples from the array and doing qPCR verification to find out what DNA is present.
This system gives DPIRD and WA port authorities advanced warning of new threats. And hopefully this prevents an uncontrollable spread of the, uh, 'sea vomit'. But nothing is guaranteed, yet.